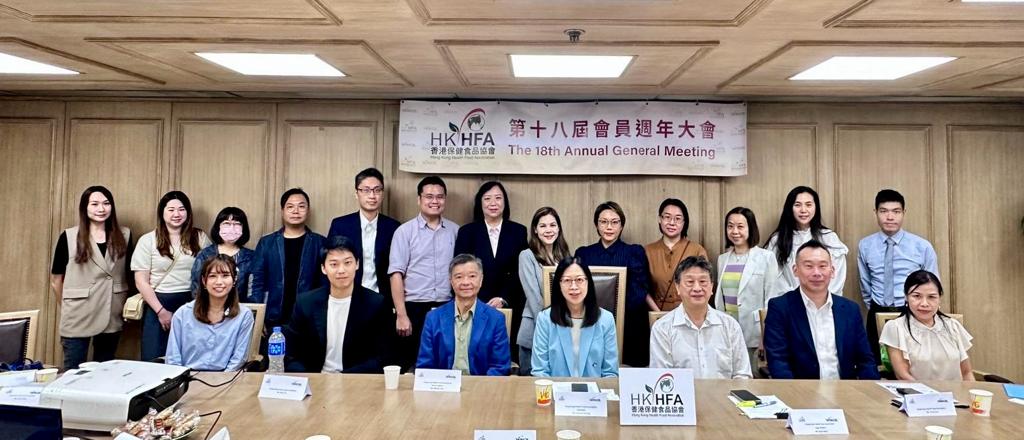 16 Nov

The 18th Annual General Meeting of the Hong Kong Health Food Association

The 18th Annual General Meeting of the Hong Kong Health Food Association was successfully held on 2 November 2023. Ms. Joanne Cheung, President, Mr. William Tsui, Vice President, Ms. Mandy Wong, Treasurer, Mr. Jesse Kwok, Honorary Legal Advisor, council members and members attended the meeting. The President, Chairmans of External Affairs, Internal Affairs, Strategic & Regulatory Committee and the Treasurer delivered their annual reports and financial reports respectively, which were approved at the meeting. The annual general meeting also successfully elected the new President, Vice presidents, Honorary Secretary & Treasurer and council members.

The president summarized that in the past year, the industry has seen growth in the market as the pandemic restrictions have eased.  Society has gradually returned to normal.  The economy has regained its momentum.  Consumers have become more aware of the importance of health products that support wellness and immunity.  The health awareness of the population has increased, disposable income has increased, and preventive health care has shifted.  These factors all contribute to the growth in the market.

The Association is committed to working with the HKTDC, HKPC and GS1 to create a good business environment, including providing seminars and workshops for applying government funding on R&D, digital transformation and marketing expenses to promote health food products in the Mainland and the Greater Bay Area (GBA) with the aim of developing sustainable growth of the industry.

Recognising the importance of consumer education, the Association put great effort in raising public awareness of the benefits of healthy food and organizes seminars to educate consumers on the importance of a balanced diet and healthy food in achieving health, with the goal of enabling citizens to make informed choices and have a healthier lifestyle.

The association nurtures talents in collaboration with institutions. In 2023, the Association has established a partnership with the Vocational Training Council (VTC) to work hand in hand to provide students with practical insights and working experience through guest lectures, seminars and internship programmes, with the goal of equipping talents with the necessary knowledge, skills and enthusiasm to lead them in building a sustainable and responsible health food industry.

With the support of council members, members and stakeholders, the Association will continue to foster an excellent business environment for the industry, promote the vigorous development of health food in Hong Kong, and provide the general public with knowledge on the safe use of health food.